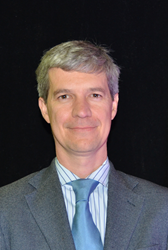 Bellingham, WA (PRWEB) July 29, 2014
The advanced optical methods and applications for imaging and manipulation of the brain that are driving a revolution in the neurosciences were the inspiration behind 'Neurophotonics,' a new peer-reviewed journal published by SPIE, the international society for optics and photonics.
The first issue coincides with the launch of the BRAIN Initiative in the United States, and a special section features articles that lay out a vision for and provide examples of the impact that optics and photonics will have on advancing our understanding of how the brain works. The journal began publication in May, and all articles will be freely available online through 2015.
SPIE Member David Boas, a professor in radiology at Harvard Medical School and a physicist at Massachusetts General Hospital, is the journals editor-in-chief.
'Neurophotonics' provides a highly visible focal point to facilitate and accelerate the rapidly expanding impact of this discipline, Boas said. A key goal is to foster a greater awareness and interaction among the photonics, neuroscience, and clinical communities that reflect the diversity of the discipline.
Papers will cover topics such as functional near-infrared spectroscopy, optogenetics, photoacoustics, optical coherence tomography, laser speckle contrast imaging, neural stimulation, energy metabolism, Alzheimers disease, and calcium dynamics. Among articles in the first issue:

In Programmable wireless light-emitting diode stimulator for chronic stimulation of optogenetic molecules in freely moving mice, Mitsuhiro Hashimoto and co-authors describe the development of a miniature, multicode, multiband, and programmable LED stimulator for wireless control of optogenetic experiments. Fixed to the skull of a mouse, the device enabled researchers to stimulate the brain utilizing directional photopulse patterns that essentially steer the mouse in the direction of the photostimulation.
In Photoacoustic brain imaging: from microscopic to macroscopic scales, Junjie Yao and Lihong Wang present four state-of-the-art photoacoustic tomography techniques for brain imaging and their implications for furthering our understanding of the way the brain works. When used on mice and rats, these noninvasive techniques display which regions of the brain are active based on certain specific stimuli to a staggering degree of accuracy and consistency.
Alejandro San Mart